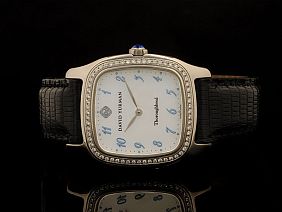 Don't put your credit rating at risk. Receive an immediate no credit check small business loan from SDJB with your timepiece as collateral. Our A+ BBB California pawnbrokers are specialists at appraising luxury timepieces and antique pocket-watches. We provide up to six figure small business loans in San Diego for qualified watch collateral.
San Diego business owners and entrepreneurs use our collateral loan service because we have decades of experience appraising, buying, and selling prestige timepieces and collectable watches, including high-value watches from Rolex, Patek Philippe, Audemars Piguet, Jaeger-LeCoultre, Vacheron Constantin, and Cartier. SDJB offers bigger California small business loans on luxury timepieces and antique pocket-watches because we appraise your watch on our exclusive worldwide network of individual buyers and collectors.
Call (619) 236-9603 to speak with a San Diego small business loan specialist now. We will schedule you a free watch appraisal and loan consultation at our offices in downtown, San Diego. An SDJB collateral small business loan requires no credit checks and we never report to credit rating agencies. We serve entrepreneurs and small business owners throughout Southern California.
Small Business Loans - San Diego Startup Financing