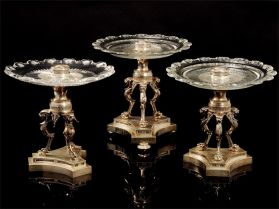 Receive an instant cash loan using gold and silver as collateral with an SDJB small business loan. Our luxury pawnbrokers are specialists at appraising gold jewelry and coins, silver and gold bullion, sterling silverware & holloware, and other precious metal assets. You can receive an immediate San Diego business loan up to $250,000 on qualified gold and silver collateral.
Southern California small business owners and entrepreneurs use our collateral loan service because we have decades of experience appraising, buying, and selling gold and silver gift assets, including designer merchandise from Tiffany & Co., Georg Jensen, Buccellati, and John Hardy.  Because of our exclusive partnership with San Diego's only precious metals refinery, we also offer bigger San Diego business loans on scrap gold and silver items like old gold chains and broken jewelry.
Call (619) 236-9603 to speak with one of our San Diego small business loan specialists. They will be happy to schedule you a free appraisal of your gold or silver assets. The appraisal takes only a few minutes and your small business loan will be issued immediately. We don't make credit checks or report to credit rating agencies. Your privacy and credit rating are protected with an A+ BBB collateral small business loan from SDJB.
Don't finance your California start-up with a risky cash advance on a credit card. Keep your hard earned good credit rating protected. Contact us now.
Small Business Loans - San Diego Startup Financing