In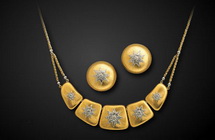 the past few days, SDJB has served a number of local entrepreneurs with loans to cover a temporary Christmas cash shortfall. If you are a California business owner who wants to hand out some Christmas bonuses this year but are short on cash for a few months, a San Diego small business loan from SDJB may be the perfect answer to making your employee's holiday a little brighter.
A San Diego small business loan from SDJB is a collateral loan where you use luxury assets like fine jewelry to secure a loan until your cash flow returns. You can obtain your San Diego small business loan to pay Christmas bonuses or purchase Christmas gifts without worrying about harming your credit rating.
Your good credit rating is protected because SDJB never contacts credit rating agencies. Should you choose to not pay back your San Diego small business loan, we will simply keep the collateral that you left with us to secure your Christmas business loan.
In other words, the only risk involved in your immediate San Diego small business loan (which we issue in sums up to $250,000) is that you could lose the collateral that you used to secure the loan if the loan is not paid back. That is why we always advise clients not to use extremely sentimental pieces to secure a collateral business loan.
Keep in mind that we don't only offer San Diego small business loans for extra cash at Christmas time. We also buy your fine jewelry, diamonds, gold, silver, collectable watches, and designer handbags. Sell us these previously-owned items outright and we will put more cash in your pocket within 30 minutes or less.
The process is fast and easy. Whether you want a San Diego small business loan based on your luxury collateral or you wish us to buy the items outright, it all begins with a free verbal appraisal. Call us now at  (619) 236-9603 to arrange your appraisal today. Your appraisal and small business loan consultation is entirely free of charge, with no strings attached.
Have a wonderful Christmas and Happy New Year!
Small Business Loans - San Diego Startup Financing